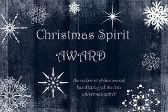 I got an AWARD! It's a first, folks!! A special thanks to
Screaming Mimi
! In accordance with the award, I must do the following:
(The Rules are simple!)
You must be a true Christmas lover to receive this award.
The person to whom you give the award must also be in love with Christmas.You must link back to the person who gave you the award.
You must list 5 things that you love about Christmas. If you can't limit it to 5 things, then keep going till you run out of space!
Pass the award along to as many people as you like. That can be 1 or 45; it's up to you. But, you must pass it on to at least one person in order to keep the Christmas cheer going!
Let your recipients know that you have tagged them by leaving them a comment on their blog.
Okay... so the things I love about Christmas:
1) Baby Jesus. I mean, duh, he tops the list!
2) Spending time with my family! Sometimes this is hectic, but I've come to not only expect it, but to relish in it.
3) Wrapping presents. I'm totally OCD about presentation, so my Mom doesn't wrap anything but mine. I love a clean table, lots of pretty paper, tape, tags, and a pen. Then leave me alone to work out my masterpieces!
4) FOOD. Christmas Eve with my family = Ham and all the fixins. Christmas Day = Turkey, Dressing and all the other fixins. And I haven't even mentioned the desserts!!
5) The opportunity to give back (or pay forward).
Now... I'd like to tag:
Bits -- Bitsy has been a blessing to me all year, and I know she loves Christmas!
Staci -- I would love to be around and watch Staci bake a holiday cake (or two) this year!
Leslie Ruth -- LR has a poll going about Christmas lights. It that doesn't scream "I love Christmas" I don't know what does.
Royce -- Royce has this incredible talent to personalize a gift!
Holly -- I know that Holly loves Christmas! It may not be on her blog right now, but I know that Christmas at her house is going to be a blast with Buddy & BuddyRo this year!
Julie -- This Mommy-to-be is so precious and I pray that this Christmas will be the most special for her and her hubby to date!
Sarah -- Sarah and her husband have three kiddos who, I have no doubt, will make this Christmas one of their most memorable (and exciting to date!)
Paige -- Paige and I have been friends for almost 17 years! She is just a great Mom and I know Christmas at her house is a blast!
Jennifer M. -- I can't wait to see what's she got planned for her family this year!
Michael -- (I'm sure he's thinking I would not tag him.) I can tell you that I don't know ANYONE who puts more into Christmas planning that Mike does. I have been unable to attend his Christmas celebrations, but just know that he puts MONTHS into planning it all! No details are unnoticed or undone!!
Thanks again to Mimi! You're the best!!